lifeAR: New Mobile App by TeamViewer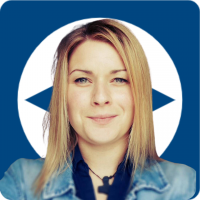 Esther
Posts: 4,088
Former Community Manager
Hi all,
Today, TeamViewer introduces a new mobile app called lifeAR!
I was lucky to have the chance to test the app already! I can 100% confirm that it is indeed bridging the gap between digital conversations with friends and family, and the physical world. 
With lifeAR, you can interact with each other through location-aware AR annotations. That means: AR annotations are permanently attached to real-life objects, even if the device view is momentarily panned away from those objects.
I am convinced the app is beneficial in various mobile and on-the-go use cases – from supporting others in hard-to-describe situations to joint shopping experiences or simple social interactions. For sure - I already sent all my friends and family members the download link (I also add them to this post, see below)!
I recommend you share the app with everyone you love too 😍
The app is available for iPhones and Android smartphones and offers a myriad of use cases. But to start with, the most relevant to know is most likely, that lifeAR enables mobile-to-mobile group video calls with up to six participants, who can attach a range of AR markers, emojis, text and drawings to the real-world surrounding them. At the same time, everyone can jointly watch it live through the camera feed from one of the participants' phones 
You need to test it yourself: It´s simply awesome! And for me, it is a game-changer in my communication!
Some tech-info:
The new app builds on TeamViewer's successful trajectory in the field of AR-based remote support. It leverages cutting-edge AR technology such as Apple's LiDAR scanner and ARKit, as well as Google's Depth API within ARCore to realize precise annotation placements in 3D environments. This technology is already part of TeamViewer's enterprise AR solutions and used by numerous companies across all verticals.
Watch Oliver Steil and Toto Wolff...
...how they unveil TeamViewer's branding on Mercedes-AMG F1 W12 racing car through lifeAR:
The lifeAR app is showcased for the first time in an online interaction between TeamViewer's CEO Oliver Steil and Toto Wolff, CEO and Team Principal of the Mercedes-AMG Petronas F1 Team and Head of Mercedes-Benz Motorsport. 
Last but not least:
The app is available starting today and it is free of charge for everyone!
I am happy to add some helpful links for you to start with lifeAR quickly:
Thanks and enjoy lifeAR,
Esther