How to Share iOS 11 Screens Easily With TeamViewer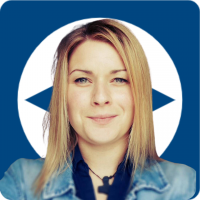 Esther
Posts: 4,112
Former Community Manager
Sneak preview: Try out TeamViewer's new iOS 11 screen sharing feature for free, until October 30.
Great news for all iPhone and iPad users with the new iOS 11, as well as their tech supporters! TeamViewer QuickSupport now offers a new way to share your device's screens with speed and ease.
Up until now, screen sharing your iPhone or iPad was a daunting task. To screen-share iPhones and iPads, you had to plug them into a Mac via USB, screen sharing that to another Mac, and thus be able to see the mobile device and provide help.
Especially when speaking about more than one or a few devices, say in a company, for educational purposes, or as a professional IT supporter, the procedure simply isn't feasible as it is, namely too indirect and hard to scale up.
That's why internet forums are full of people searching for better ways to share the screens of iOS devices. But today, TeamViewer can gladly announce that the times of over-complicated iOS screen sharing are finally over!
Irrespective of whether you just want to show your buddy some cool new iOS 11 features or there are hundreds of iOS devices in your company that must be maintained, you can breathe a sigh of relief.
With TeamViewer, it's now easier than ever before to share your iOS 11 screens – and thanks to our extensive cross-platform capabilities, you can even do so using your Windows PC or Android tablet.
Let's jump right into the tutorial to get you all set up!
How to Set Up iOS Screen Sharing With TeamViewer
1. Make sure you are on iOS 11 and download and install the TeamViewer QuickSupport app from the AppStore.
2. After opening the app on your device, press the Share Screen button.
3. (Only for initial set-up): The QuickSupport app will display instructions to set up your device for screen sharing. The goal here is to add the Screen Recording button to your device's control center.
     a. Leave the QuickSupport app and go to the device's Settings.
     b. Go to Control Center, press Customize, and add Screen Recording.
4. Return to the QuickSupport app, slide up the control center by swiping up from the bottom of the screen, and 3D touch (iPhone S6 and above) or press and hold the Screen Recording button. Select TeamViewer QuickSupport from the appearing menu and press Start Broadcast.
5. You'll receive a notification with your TeamViewer ID, which can now be used to establish a connection from another instance of TeamViewer.
Congratulations! You can now screen share iOS 11 devices with TeamViewer and navigate through the device while your connection partner will be able to see the screen in real time.
Try iOS 11 Screen Sharing With TeamViewer Today
Finally, iOS users, as well as IT supporters, can the possibilities of screen sharing more easily.
Once the QuickSupport app on your iOS 11 device is set up, you can connect to it and share its screen with only as much as a click or a touch whenever you like.
Are you excited about iOS 11 screen sharing with TeamViewer's QuickSupport app?
Try out the new feature for free until October 30, as a part of the official sneak preview!
Simply visit the App Store and download the TeamViewer QuickSupport app for iOS.
Comments