A Comunidade TeamViewer chega ao Brasil 🎉
Check out our brand-new Portuguese Community 👉 here 👈.
FAQ - Using blizz in class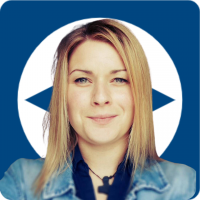 Esther
Posts: 3,907
Community Manager 🌍
Hello to all teachers, lecturers, professors, and students,
We are delighted that you want to use blizz for your classes.
To make it as easy as possible for everyone to start, we have put together the most common questions for using blizz.
At the bottom of this FAQ, we also have a short video for you that will make navigating the blizz meeting even easier.
What is blizz?
Blizz is TeamViewer's online collaboration solution, that allows meetings, presentations, and teamwork to be organized quickly and easily online. Nowadays, especially for training courses, lectures, and classes, blizz is a lean and straightforward solution that enables lessons in a virtual space.
And for everyone who doesn't know TeamViewer: TeamViewer is a leading global provider of remote connectivity solutions from Germany. With our software (of the same name as our company), TeamViewer, we focus on cloud-based technologies that enable online collaboration and remote support for users worldwide.
Is blizz secure?
Yes, Blizz is based on TeamViewer's industry-leading technology that is ISO2001 certified, 256-bit end-to-end encrypted and that offers optional two-factor authentication.
Blizz is based on TeamViewer architecture and is Made in Germany.
Where can I download blizz?
You can download blizz from our blizz.com-homepage at https://www.blizz.com/en/download/
Here you can find the downloads for Windows, Mac, Android, and iOS.
How can I get the free license for schools?
We have set up a page on which educational institutions, teachers, lecturers, and professors can register for the free licenses: blizz for school 
Important to know:
The subscription ends automatically and there are no costs.
Remote control of computers is not possible with blizz.
After submitting the form, you will receive your blizz license within one working day.
How to activate my license?
Via the link that you received from blizz, you can activate your license on your blizz account.
How can I assign the license to my colleagues?
After you have activated your license, it is important to assign the license to your colleagues so that they can start blizz-meetings as well. Please make sure to create a company profile for this.
For this, every teacher needs a blizz (or TeamViewer) account.
You have two possibilities. Please note that we recommend using only the first one:
Each teacher creates his own account and applies for access to the company profile/license via https://go.blizz.com/cmd/joincompany

Now we need to get the teachers to the right school (= company profile). Therefore, the teachers must first log in and so enter your email address (or the one of the company administrator) in order to enter the correct company profile and they have to accept that the account will be transferred to the company admin. There is no evil behind it and there is no need to worry about that!

 

As the last step, you would have to accept the individual users:

You will receive an email from TeamViewer or blizz. Please accept them via the link in the email or

accept the teacher directly in the blizz console.

So there are two extra steps that ensure that every teacher comes to the right company or that every administrator actively decides who is allowed in the profile and who is not.

This option is only a workaround and we recommend you to use the first option mentioned above: Alternatively, a teacher can create accounts for all teachers using the TeamViewer Management Console. (Background info: account creation for others is currently not possible within blizz, but you can create accounts for everyone using the TeamViewer Management Console.)The following applies:

Log in to the TeamViewer Management Console and create a company profile and then you can create user accounts for all teachers. (A trial phase is started here - but that is initially of secondary importance. However, this means that after a few days you will no longer have access to the company profile via the TeamViewer Management Console)
IMPORTANT: If you have already created a company account in blizz, this must be deleted in advance. Please call our support for this.
To create the users, please click +Add user and fill in the fields for name, email and password accordingly (also specify a password for the user. If you want the user to be able to change the password afterward, please make changes under Permissions for Allow password change only or Allow full profile modification).

Add user

 

Permission adjustments

 

Click Add User to complete the process. The user is now in the company profile. Both in blizz and in TeamViewer
The blizz license can now be assigned in the blizz console. To do this, click on the pencil icon and switch from free to company under license

 
How can my students download blizz?
blizz offers several quick and straightforward options here.
Direct download of the software from our homepage: https://www.blizz.com/en/download/
By email invitation from the teacher/lecturer/professor: Send all students a short email with a direct invitation link. Students can then download the software from this email in one step and join the meeting.
Via https://go.blizz.com/ and the individual meeting ID for the class
 
How do I start a meeting?
As a teacher, you have already downloaded the blizz software from our homepage. If not: you can do this right now at https://www.blizz.com/en/download/
In principle, there are two different types of blizz meetings (for the sake of simplicity, I am talking about "meetings". This means classes or lessons with one or more people):
Spontaneous meeting
a scheduled meeting
My recommendation is to plan one meeting for each lesson in the blizz Scheduler. The advantage is that you can send invitations in advance, and the participants can quickly and easily sit in the correct "classroom" via a link in the invitation email.
Spontaneous meeting
In the blizz application, click on Start Meeting and briefly give the student your Meeting ID so that they have the correct ID to attend. By email, WhatsApp or another communication channel:
Scheduled meeting
Each teacher can use the Scheduler to plan each lesson, thereby defining an individual meeting ID for each lesson. To schedule a meeting, you need a blizz account, that you can create for free.
With this, the four math lessons per week can only be covered by one planned meeting.
Click Scheduler in the left side menu
Select New Meeting ... at the bottom right
Enter the data for the class

Give the meeting/class a name
Select the time (start and end) for the meeting/class.
Every meeting should be password-protected against unauthorized access
Place a checkmark to save the meeting for later reuse
Click on Save



 

In a further step, you can now invite the students via email. For that, please

Click on the saved meeting
Click Invite in the lower menu
Edit, copy or send the invitation text to all students directly via the email program

 
How to secure my meetings against uninvited guests?
To make sure that only people join your meeting you want to have as participants, we have some best practices for you:
Schedule your meetings via the Scheduler to have unique Meeting IDs for your meetings
Always generate passwords for your scheduled meetings
Do not publish your meeting ID online

Also: Be careful when posting Meeting IDs in your intranet

Share the password to your meetings only with your participants
Educate your participants to not share the meeting credentials with others
Lock all meetings once all participants are in the "room"

 
How do I share the screen with my students?
Once you've started your class, you can share your screen with the students. To do this, click on the monitor icon at the bottom of the screen.
Here is a brief overview of the functions for you as a presenter:
Microphone on/off
Camera on/off
Share screen
Invite participants
Leave/end meeting

 
Hint: The green frame shows you the screen you are currently sharing with the students. Please always keep in mind: Everything that is displayed inside the frame will also be seen by the students.
This is how it looks for your students:
How can I speak to the students?
Blizz offers you a high-quality audio offering that allows you to take part in lessons via Voice over IP (VoIP).
We recommend that all participants use a headset to guarantee the best possible audio quality. For data protection reasons, participants must always activate their microphones and audio transmission themselves.
As a meeting organizer, however, you have the option to mute all or individual participants.
Please note that all participants have to reactivate their microphones after you have allowed the organizer to speak again. The following also applies here: For data protection reasons, you as the organizer cannot activate the participants' microphones yourself.
Can I chat with the participants?
You can chat with all participants in a blizz meeting. You open the chat window with the speech bubble symbol in the lower menu bar.
Please note that the chat history will not be saved or restored after the meeting has ended.
For permanent and a saved chat history, please use the blizz chat in the software (All participants must create a free blizz account for this).
How can a student share his/her screen?
As the organizer of each lesson (aka blizz meeting), you can determine who can, as the presenter, share his/her monitor with all participants.
It can be you or a participating student.
Please keep in mind that each student must actively agree before sharing his/her screen with everyone else in the class.
To assign a participant as a presenter, please follow these steps:
Open the participant overview
Click the name of the attendee you want to be a presenter and select Assign as Presenter from the menu 



 

Wait until the participant has agreed to take on the presenter role. A pop-up is displayed, which he must confirm with a click.

The participant has 30 seconds to accept the presenter role. If he misses this, you can repeat step 2 again.

The current presenter can choose a new presenter. As an organizer, you also have the right to reassign the role of presenter.
How do I end a blizz meeting?
The lesson is over, and you want to end the meeting?
Nothing simpler than that: Simply click on the red telephone in the lower right corner of your monitor and confirm that you want to end the meeting for everyone in the following pop-up message.
Video: Meeting with blizz - how it works
We hope we were able to help you with this FAQ and make the first steps with blizz even easier for you.
Best regards and stay healthy,
Esther
Community Manager
Comments