Do you want to enjoy the new TeamViewer user interface for Windows?
Download the new version and let us know what you think about it! 👉 Please click here 👈
How to Save Time with TeamViewer's Brand-New Recent Contacts Feature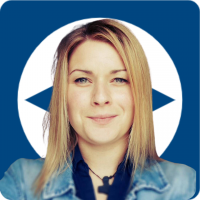 Esther
Posts: 3,994
Community Manager 🌍
Lost the overview in your Computers & Contacts list? Discover a clever way to organize it with the new Recent Contacts feature!
How many devices do you support with TeamViewer? 100, maybe 500 or even more?
No matter if you help out many individuals or you're responsible for your company's in-house support:
If remote support is your profession, your Computers & Contacts list can become pretty bloated over time, making it harder to quickly find the contact you want to work with.
That can be especially irritating, when you were already connected to the contact in question recently, but you closed the connection prematurely.
Did you get interrupted or is there something you need to finish on the other end?
And most importantly: Isn't there an easy way to get back to the contact you were connected to just a minute ago?
Well, now there is!
Thanks to TeamViewer's brand-new recent contacts feature, you have quick access to the ten contacts you last established a connection with from within your Computers & Contacts list.
Recent Contacts: A Savior for Productivity
Up until now, there have been two ways for you to systematically search through your contacts apart from their default alphabetical order:
1. You can create and label groups to categorize your TeamViewer contacts. It is possible to share yours and re-share groups others shared with you.
2. With the classic search bar at the top of your Computers & Contacts list, you can type a contact's name, or parts of it. Only the affected contacts will be displayed.
The Recent Contacts feature now offers a third way, giving you more options to effectively identify the right contact:
When opening your TeamViewer client and navigate to your Computers & Contacts list, you'll notice a new drop-down menu fittingly titled "Recent Contacts" at the top of your list.
It automatically displays the ten contacts you last started a connection with from within your existing Computers & Contacts list.
So you can reconnect by simply clicking on the contact in question and choosing between a remote control, presentation or video call connection, just like you're used to.
The feature doesn't require any activation, but it can be extended and hidden with a simply click on the drop-down arrow.
The next time you'll have to get back to a previous connection, it'll only take a second.
Spare Yourself the Long-Winded Searches
With your ten most recent contacts always only one click away, we hope to make your lives a little bit easier once more.
Sometimes it's the little tweaks and optimizations that make a big difference. Especially in the long run, if you just think about the total time this feature could potentially save you.
What are your thoughts on the new Recent Contacts feature? Gives us your feedback in the comments section below!
Community Manager
Tagged:
Comments