Windows 10 remote desktop sessions showing up in TV session list and preventing host from sleeping
I often switch between using TeamViewer (beta v12, updated) and Microsoft Windows 10 Remote Desktop to access my host PC (which is running Windows 10 Pro). Over the past several months, I have noticed that the TV session list (which appears in the lower right corner of the host PC) is showing what appears to be my Windows RD sessions, AND my host PC is not going to sleep after those sessions end. Restarting the host PC resolved this issue in the past, but no longer. I have to log back into the host PC, close all TV sessions by x'ing out of the sessions list tab, etc. I am attaching a screen shot of the session list. Can anyone please shed light on this? It is obviously a setting of some sort that is making TV recognize those Windows RD sessions when it should only recognize its own TV sessions. Thank you!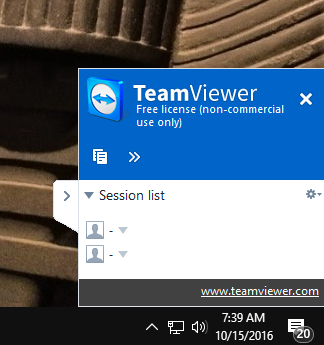 session list from HOST PC with Windows RD sessions showing in TV session list.
Comments