Change password to access "computer and contacts"
Hi
In order to access autotically to "computer and contact " when Teamviewer starts. In order we indicate into "Option" window , tab "computer and contacts"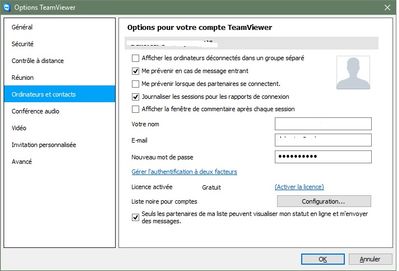 Since last monday, the licence desapears, my Id number as well and connexion to "comptuter and contacts" didn't work anymore.
1 : When I want to change the password, teamvieuwer requests the old one that I forget...
the password procedure indicated doesn't work because it doesn't send this ols password.
So what can I do ?
NB : I can connnect thoughout the new password define by the web procedure.
2 : My licence was desactivated. Of course, I can activate it again, but each time I lost one installation possibility (already 7 remains over 9 because of this situation).
How avoid this situation ? is it better to uninstall Teamvieuwer, and install it again ?
regards
olivier