Why We Decided to Polish TeamViewer with a Code-base Rewrite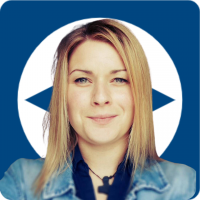 Esther
Posts: 4,091
Former Community Manager
The code is the heart and soul of a program and thus has an enormous effect on its performance.
That's why it's so important to us to have one that is as good as it can possibly be.
Even the best programs need a makeover every once in a while to keep their efficiency and maintainability.
TeamViewer is supposed to give you the best remote experience you can have and to stay up to that creed we decided that with version 12 the time had come for a Code-base Rewrite.
The goal was to make it more lightweight and at the same time even more powerful than ever before.
But let's get a bit further into how we achieved that goal.
How We Approached the Code-base Rewrite
Technology evolves in an ever increasing pace and programming languages change, providing for more possibilities in software development to tap into the full potential of modern computers.
When rewriting code, developers can then make use of that potential and even drastically enhance a software's performance.
Old or even outdated code can be replaced while overall, the whole code is slimmed down.
We really felt that with TeamViewer 12, we wanted to take a fresh start and that's why our development team walked the extra mile and realized many major improvements to optimize all of TeamViewer 12's code.
In the last weeks, we already presented some awesome features and improvements that come with TeamViewer 12.
Well, most of them wouldn't have been possible without the vast boost in performance that comes with the Code-base Rewrite.
Improvements such as the 20 times Faster File Transfer, High Framerate Connections or Intelligent Connections Setup we owe to the overhauled code of TeamViewer.
Apart from making other features possible, every single one of us will profit from that, regardless whether you're using all of TeamViewers functionality or just the basics.
That's because the code is the number one factor to influence your whole experience with the program.
While that also depends on your network connection and your hardware, the code is the one constant that can serve for a better experience for every user.
As you will notice, TeamViewer 12 works more efficiently than ever in all its aspects, making the best of the given resources, be it in remote sessions, file transfer, the management console - you name it!
What Do You Think?
We believe that we could realize some tremendous enhancements by executing the Code-base Rewrite.
Now it's your turn to experience them in your everyday life.
What improvement was the first one you've noticed? Share your answer with us in the comment section below.
Comments