Teamviewer 13 & Debian Stable 9.2 — no GUI
just updated from Teamviewer 12 (which worked fine at the time*) via the 64-bit deb provided from the download page.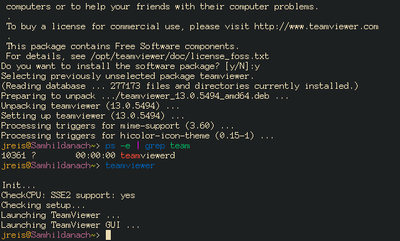 Terminal output …However no GUI materializes. In fact nothing at all happens. There is no tray icon, no window, no process shown via ps (other than teamviewrd). I do not know if the server portion is working (ie whether I'd be able to log into the computer) since I uninstalled & purged Teamviewer 12 before installing 13—and thus am not able to log in to my Teamviwer Account. or otherwise get the ID for this machine in order to attempt a connection.
Debian 9.2 | kernel 4.9 | no Desktop Environment, just a window manager (JWM) running on top of X. Willing to provide logs if instructed how to do so. Please advise.
*
Spoiler
though I did have a very similar issue with the GUI in version 12 back in April. I opened ticket #3093852. I received a request from Gilberto for logs, which I sent and that is the end of my own documentation on the issue. I do not recall what (if anything) I did to rectify the situation, it is very probable that simply updating teamviewer resolved the issue for me at that time.
_________
Updated to add info (I just found out about 'teamviewer --info' while reading around on the forums. So here it is, in case it is useful:
Answers