Update now to the most recent TeamViewer version 15.34.
See the Changelogs here.

[Windows] v15.6.7 (Full) - Change Log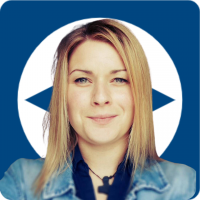 Esther
Posts: 4,091
Former Community Manager
Operating system: Windows
Version: 15.6.7
Release date: 2020-05-26
Change Log:
New features
Instant image-to-text recognition for the augmented reality sessions. Pilot users can now recognize texts on their phones or tablets and send them to the expert with one click.
Improvements
The MSI installer now allows you to optionally deactivate TeamViewer's Outlook Add-In upon installation. As a result, the Outlook Add-In will be installed but not activated. However, it can still be activated at a later time. By default, the Outlook Add-In is installed and activated.
The feedback option is now more prominent on the top menu.
Bug fixes
Fixed a bug for the black screen which sometimes prevented the expected deactivation when pressing Ctrl + Alt + Del on the remote computer.
Fixed a bug in the remote connection which caused the connection to freeze when selecting a single window.
Fixed a bug occurring with active Black Screen and single-window mode, which caused TeamViewer to crash when minimizing or closing the window.
Fixed a bug by which TeamViewer's Outlook Add-In was activated in Outlook although it was not shown as active in the advanced TeamViewer options.
Fixed a bug that caused the video of the other participant in a Remote Connection or Meeting not to be visible.
Fixed a bug that caused TeamViewer Run Only to crash when starting programs that trigger a User Account Control prompt on the remote device.
Tagged: