Update now to the most recent TeamViewer version 15.34.
See the Changelogs here.

[Windows] v15.7.6 (Full) - Change Log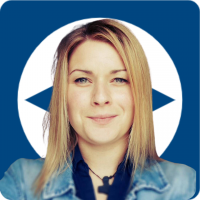 Esther
Posts: 4,091
Former Community Manager
Operating system: Windows
Version: 15.7.6
Release date: 2020-06-23
New Features
Black screen for incoming remote control connections can now be activated for the TeamViewer Client and TeamViewer Host Client via the advanced options.
Bug Fixes
Fixed a bug that caused open windows on Windows 10 to have no border if "Disable GUI animations" was active.
Fixed a bug for drag & drop which caused the file to stop moving at the end of the session window when trying to drag from the remote to the local machine.
[QuickSupport] Fixed a bug that prevented the application from establishing a connection after logging in with an Administrator account during Windows authentication.
Tagged: