TeamViewer 14.1.3399 Ubuntu 18.04 Host - display errors
Ok
When I'm on the windows machine and remote into my Ubuntu machine that just updated to 14.1.3399 the TeamViewer output is all wonky.

I actually uninstalled Ubuntu and reinstalled - everything including team viewer.
Windows Ghost and double up - wherever I click the mouse it doesn't work there but ghosts elsewhere.

I also have TeamViewer 14.1.3399 on an Ubuntu 16.04 machine and she works fine.

I made sure my windows laptop had the matching versions to the other machines.

Attached is the image output from 18.04
(this was working perfectly)

Update
----------------------------------------
I found this to happen when I remove the HDMI cable from the TV display. This again does not happen on the Ubuntu 16.04.

If I remove the HDMI and login to run headless from TeamViewer it changes the desktop. The Ghosting appears and nothing clicks or works in the correct spot - clicking on the top right TeamViewer icon brings the drop down (unusable) on the left side of the screen.

However, if I go back to the CPU and plug into the tv the ghosting is not present clicking on things work but its stuck on the Activity display. But the desktop is still funky until I reboot.

In essence, as long as I have HDMI plugged in TeamViewer works now. Again this didn't happen until today.

Any Ideas??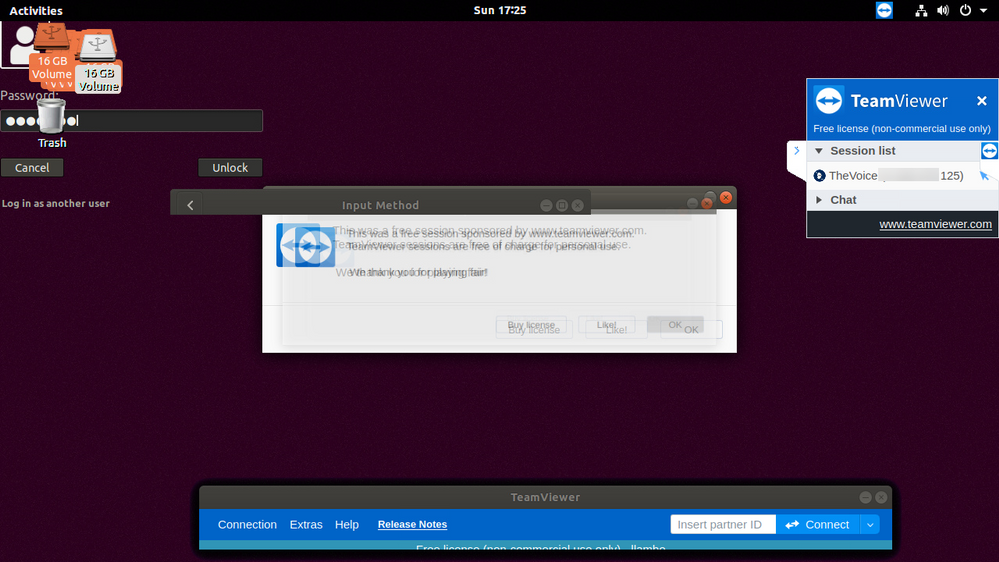 Tagged:
Comments