Teamviewer 14 Not Ready. Please check connection.
Hello. I've been having trouble with teamviewer ever since updating to version 14 with connecting. Please let me know what I can do in order to utilize teamviewer again.
No matter what I do, it just gives me an exclaimation point, complains about a proxy and can't connect.
I've confirmed I can ping master[1-6,9].teamviewer.com
Teamviewer is established and/or listening on ports 2379,2378,6039,5938,61715,5353,51716,5353
I've reinstalled clean twice.
Added exception rule to windows firewall
Disabled the firewall
Rebooting router/modem
tried running my computer off 3 different internet connections (from 3 different ISPs)
I'm running windows 1809 Build 17763.194 (home edition)
Specs:intel i7-4810MQ (2.8GHz),16Gb RAM, GeForce GTX 860M 
In general under options, if I select "accept LAN connections" I can accept in-network connections.
Attempted fixes:
https://community.teamviewer.com/t5/TeamViewer-General/Not-ready-Please-check-your-connection-Teamviewer-not-connecting/td-p/3651
https://community.teamviewer.com/t5/TeamViewer-General/Not-ready-Please-check-your-connection/td-p/12966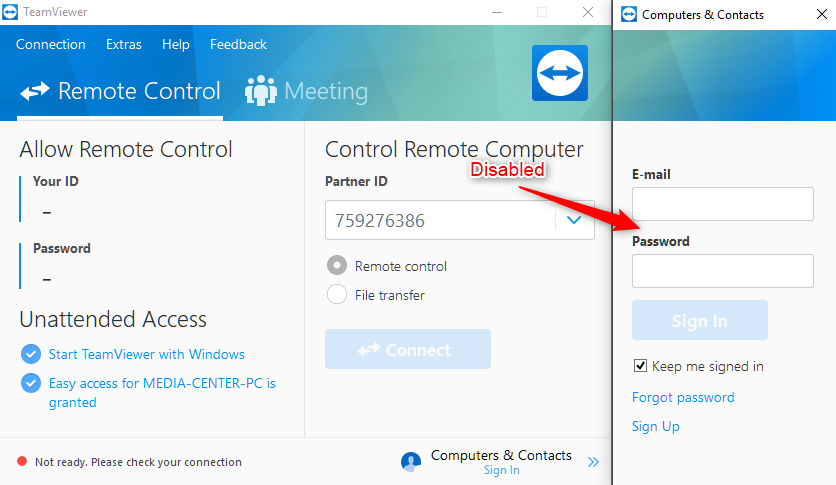 Interface login disabled
communication w/ server
Tagged:
Comments