Why TeamViewer is the Perfect Tool to Work Across Platforms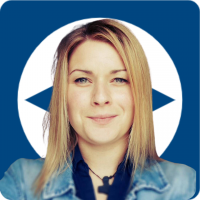 Esther
Posts: 4,091
Former Community Manager
Working across a Windows PC, iPhone, Android tablet, and maybe even more operating systems?
With TeamViewer, you've got the perfect tool to work across platforms.
Are you the proud owner of 3 different devices with 3 different operating systems or is your situation similar?
Most people know the inconveniences that go along with that. Different operating systems are incompatible for many actions and that makes our lives harder.
If it was only for desktop computers and laptops, the list of mainstream operating systems would end pretty quickly.
Mac OS (4.46%) and still especially Windows (88.73%) are the predominant desktop operating systems with the highest shares on the market worldwide.
And not to embezzle Linux (2.16%), of course, which in return is ever so popular on e.g. servers.
Naturally, those numbers summarize the various versions of the operating systems that are still being used.
But reducing operating systems to the ones popular on desktop PCs and laptops wouldn't do reality justice anymore nowadays.
On mobile devices like smart phones and tablets, we come across Android (57.99%), iOS (30.75%), Windows Phone OS (1.44%), or Blackberry (0.43%), of course again in various versions.
However, no matter if you're providing remote support for a living or you're just searching for an easy way to work with your different operating systems more effectively, there is a solution for the multi-platform fiasco.
You guessed correctly: It's TeamViewer!
Use TeamViewer on the Platform of Your Choice
Perhaps one of the most compelling things about TeamViewer is its comprehensiveness regarding the variety of systems and platforms.
You can use TeamViewer on all of the operating systems stated above and also remote into any of them – even if they don't come with a GUI, like headless Linux systems.
Are you working on a Mac and want to send your friend a large file to his Windows Phone?
No problem, go for it!
Want to log into your Linux server from your Android device remotely?
Sure, no sweat!
To be frank, you could even provide support to navigation systems, configure a smart TV remotely, and remote into more IoT devices.
Using TeamViewer, you have the most flexibility possible.
It's Still a Cross-Platform World
Luckily, the cross-platform problem is much less of a barrier today than it was a few years ago.
However, there are still some gaps that must be bridged.
At TeamViewer, we are very proud of the many cross-platform capabilities that our software already offers and we're constantly working on improving them even more so you can enjoy a maximum of freedom.
Be it to provide support to a vast array of different devices from mobiles, over PCs and servers, all the way to tiny IoT devices spread over the whole world.
How many operating systems do you work with? Participate in the comment section below!