iOS Screen Sharing with TeamViewer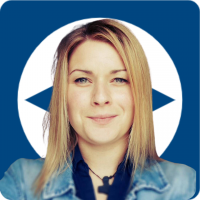 Esther
Posts: 4,078
Former Community Manager
Hi TeamViewer Community,
I would like to share some exciting news with you from yesterdays´s press release about TeamViewers official iOS Mobile Screen Sharing capabilities.
I am quoting our official press release: 
Screen sharing enables SMBs and enterprises enhanced business collaboration and remote support across all iOS 11 devices
London, UK, 29 August, 2017 – TeamViewer®, a leading global software provider for digital networking and collaboration, announced today the first go-to-market software giving all iOS 11 mobile device users the ability to share screens. TeamViewer's software combines enterprise readiness and security assurances for individuals to collaborate efficiently and provide support securely, enhancing productivity and communication across multiple offices around the world. This industry-first true iOS screen sharing capability is a now available as a preview for all users.
"TeamViewer prides itself on being an industry innovator, creating remote support software and business collaboration tools that meet the growing demands of SMBs and enterprise businesses," said Andreas König, CEO of TeamViewer. "With the addition of iOS screen sharing capabilities, we break down the barriers to enhance collaboration, by unifying platforms across departments and global offices, expanding opportunities to increase productivity and effectively communicating and collaborating with one another.
With Apple's dominance in the smartphone industry, holding 79.2 percent of global smartphone profits last year, according to Strategy Analytics and shipping more than 41 million units in the second quarter of 2017, according to IDC , iOS screen sharing is TeamViewer's most requested product feature to date. The feature will be particularly beneficial to users who need to provide remote support to iPhone and iPad owners, and users seeking to receive technical support.
As the first in industry to offer an official screen sharing capability, that launches with the release of Apple's iOS 11 software, users now benefit from TeamViewer's best of breed capabilities. Whether using their laptops, smartphones, or tablets, TeamViewer's iPhone and iPad screen sharing capabilities depend on the availability of Apple's iOS 11 software.
"The way in which enterprises and SMBs need to operate and function has drastically changed over the last decade," said Rob Brothers, Vice President of Support Services at IDC. "With the global economy in full swing, businesses are looking to streamline operations and hire a workforce that is globally diverse and mobile. Innovative businesses such as TeamViewer provide the ability to share your screen across multiple devices, from iOS to an android mobile device, which provides individuals quick access, flexibility and a secure environment to collaborate."
For more information see: https://www.teamviewer.com/features/ios-screen-sharing/
About TeamViewer
TeamViewer is a leading global provider of software for digital networking and collaboration. Founded in 2005 in Göppingen (Germany), the company employs approximately 700 people from more than 50 countries. Its flagship product, TeamViewer, is an all-in-one solution for remote support, remote access and online meetings. The software actively runs on more than 400 million devices out of which at least 25 million are connected to TeamViewer at any point in time. The company's product portfolio is complemented by solutions for IT monitoring, data backup, anti-malware and web-conferencing. TeamViewer was acquired by Permira in 2014. Further information is available at: www.teamviewer.com
TeamViewer GmbH
Jahnstr. 30
73037 Göppingen
Isn´t this exciting? Please share your thoughts about iOS screensharing with us!
All the best, Esther
Tagged:
Comments