TeamViewer is one of the winners of the European Customer Centricity Award 🥳
Please find more information here.
The Official Launch of the TeamViewer Star Program!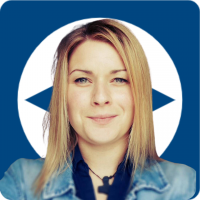 Esther
Posts: 3,880
Community Manager 🌍
Rise and shine! Apply for the program and become a TeamViewer Star yourself. 
Today's the day: The TeamViewer Star Program has finally been launched. We'd like to welcome all present and future applicants and all TeamViewer Stars to be!
But what does that mean for the TeamViewer Community?
Starting today, our existing team of moderators is joined by the TeamViewer Stars who will support them in their day-to-day tasks and are given the opportunity to actively shape and improve our community.
Joining forces with our most helpful members, we aim to further increase the overall quality of answers provided and at the same time shorten the average response time. To achieve that, TeamViewer Stars are asked to collaborate with the moderators' team in replying actively to user questions and help us to maintain a positive atmosphere in the community.
You can recognize TeamViewer Stars by their designated Star badge and community rank.
More than that, TeamViewer Stars get access to the exclusive Star Lobby to interact more closely with the TeamViewer Staff and each other.
Does that sound good to you? Than familiarize with the requirements to become a TeamViewer Star and send me a private message to apply!
Requirements to Become a TeamViewer Star
TeamViewer Stars will be selected based on their positive participation in the TeamViewer Community over the past 12 months. Because the program runs on an annual basis, individual TeamViewer Stars are being inducted once a year and must re-qualify at the same intervals.
Take note, that you have to meet the following minimum requirements to qualify as a candidate for the program:
Be ranked Tetragon or higher
Be helpful and regularly reply to posts
Author at least three accepted solutions
Respect the User Guidelines. Show an overall positive and productive attitude to help the TeamViewer Community advance.
Upon your application for the TeamViewer Star Program, the community team will check, if you meet the requirements above. You will receive a welcome email, as well as being granted the TeamViewer Star rank/badge and access to the Star Lobby, once your eligibility to become a Star is confirmed.
In case you do not meet the requirements to become a Star yet, you will receive an email including the reasons why that is. Of course, you can then always reapply at a later point in time.
Rise and Shine!
The first generation of TeamViewer Stars is about to make their entrance. And if you, too, want to be a pioneer, take an active role in the TeamViewer Community, and share your knowledge, then there's no better time to apply than right now!
Join us and become a TeamViewer Star today!
Do you have any more questions about the TeamViewer Star Program? Post them in the comment section below!